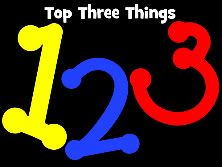 This got me to thinking, "What are the top 3 things that I should concentrate on this year to have my students be most successful?" I am switching grades this year so the thought of that has been overwhelming to me all summer long. I think that it is good to try and narrow down my thinking to my top three, most pressing, needs as the school year approaches.
1. Classroom Management
This year we are implementing a new Positive Behavior Support (PBS) system school-wide. We wrote a grant to help us implement this. We will all be focusing on clear cut procedures and consequences. Each classroom will have to use a clip chart. I have found many great charts as I have been looking through the blogs. Recognizing positive behavior is key in this system as well. There is also a large component of record keeping with this system, and I am not the best at keeping up with records. The best thing of all is that I am the chair person of the committee that is responsible for implementing and maintaining this system. Thus this is an area that I have to focus on.
Ever since my daughter started struggling with her reading in 1st grade, I have been on a passionate pursuit for a more effective way to teach my reading program. I had a daughter who did not like school or reading. She was given all kinds of support at school through pull-out programs. This just made her feel singled out and this caused her to withdraw even more. I really began searching for a way to help her and along the way discovered some great research. I stumbled upon Daily 5 and CAFE in the classroom. I just went to their workshop and want to adopt the strategies that I learned in my classroom this year.
3. Organizing my Classroom Library
I have lots of containers, lots of books, and no organization. For years I have assigned a job in my classroom for a librarian. This job usually consisted of someone making the bookshelf look neat. I would begin the year with neat baskets of books that made sense to me, but I never quite finished the job. Within week they would be a mess and I was too involved in school to sort through all of the books. This year I am going to take what I have recently read about classroom libraries, and get my house in order so to speak before school begins.